Title: Freedom (The Mended Hearts #2)
Series: The Mended Hearts
Author: Beth Marie
Genre: N/A College Romance.
Cover Design: Sprinkles on Top Studios
Release date: October 6th 2014
Synopsis

Chloe Reed and Jake Peterson have been in love since they first set eyes on each other when they were just children. As the years went by, Jake tried to hide his feelings, whilst Chloe let hers be known. Eventually, it was all too much and Jake gave in, though their relationship was kept a secret. Until Chloe drops a bombshell that changes their lives…
Moving away to college, Chloe hopes for a new start, though the guilt eating away at her every single day doesn't allow it, and she finds herself spiraling out of control and fast. It doesn't help with Jake and his constant advances. Just when Chloe thought that her life couldn't get any worse, tragedy strikes again. And who is there to save her when she reaches the pits of hell? Jake Peterson, the guy who caused it all in the first place.
Jake does everything he can to win back the only girl he's ever loved after losing her when he made the biggest mistake of his life. Watching Chloe deteriorate before his very eyes, he vows to make her smile again if it's the last thing he does.
Just when you think that everything is going great, fate steps in, ruining all that is good.
Will they be able to get over their past and the guilt that follows them around in order to find happiness with each other, or will it destroy them both?

MEET THE AUTHOR
Beth Maria is a mother and the author of The Mended Heart Series. She lives in England UK, with her two year old son. When she isn't doing her motherly duties, you can find her attached to her laptop or on the odd occasion, watching a film.
Her inspirations are Kirsty Moseley, Kelly Elliott, Tijan and Jillian Dodd.
Beth Maria loves listening to The Wanted, reading a good old book in bed or wherever is comfortable and loves checking pictures of sexy men. All for inspiration of course!
SOCIAL LINKS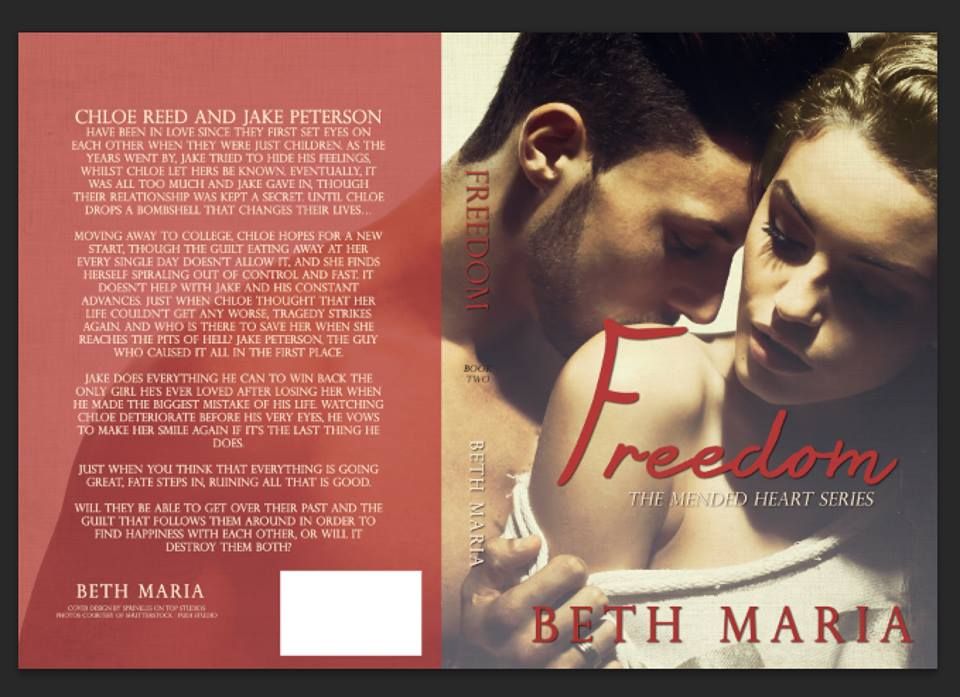 MY REVIEW
This is the second book in the Mended Heart series.

Chloe and Jake have been in love since they first laid eyes on each other.

Jake has known the Chloe likes him but he has been less revealing in his feelings in the past.

This past summer they started sleeping together.

Jake didn't want Chloe to tell anyone about it and she didn't cause she loved the little bit of him the he allowed her to have.

Then something life changing happened.

Chloe got pregnant.

Jake let her down when she needed him most and now she hates him.

Only he realized how wrong what he says was and tried to fix it but was too late.

Now he thinks he will never get another chance with her.

She has started dating his best friend, Evan.

She knows that she should break it off with him because she just doesn't feel that way about him.

Chloe has been slowly dying inside since she had the abortion.

She has started doing drugs and has been losing weight.

One night Jake has a party and Chloe gets really drunk and winds up sleeping with Jake.

Evan found her the next morning in Jake's room.

Needless to say things are over between Chloe and Evan.

This one thing starts their journey toward their happy ending.

I really loved this book.

Just like the first one this one was an emotional roller coaster.

I felt so bad for Chloe she lost her baby and the love of her life in one go.

She can't get over him but she can't forgive him either.

Jake realizes his mistake but is too late to fix it and now he feels as if he will never get a chance with the love of his life.

I really liked finding out more about Maisie and Jessie's story.

How it was incorporated into this story and continued on.

They truly love each other.

I can't wait to read the next book in this series.